As a business owner, you've got a lot on your plate. When your business starts growing rapidly, you simply won't be able to monitor everything. You'll need a clear system to help bring all aspects of the company together. How can you make sure your business is operating like a well-oiled machine?
One of the best solutions for getting all your departments and daily operations in one place is an ERP or Enterprise Resource Planning System. ERP is an integrated process for business owners as it can drastically reduce the costs you spend on tracking every department separately. Here, we'll give you a full breakdown to help you decide if an ERP System could be beneficial.
What is ERP?
As we mentioned, ERP stands for Enterprise Resource Planning. This process involves gathering data from every department and organizing them into one workable piece of software. In short, ERP can facilitate the happenings of every department and allow you a place to see everything at once.
The concept of ERP has been around for a while, even if it didn't go by that name at first. Systems like the economic order quantity (EOQ) model and material resource planning (MRP) tools were early versions of the current ERP. The first modern ERP software came about in the 1990s with the rise of computers. "ERP" as a term was created by the Gartner Group to specifically describe the digital tools manufacturers use to handle their entire business. Of course, ERP goes far beyond just manufacturing today!
Why does a company need it?
Enterprise software works by connecting every department of your company and bringing the data together in one place. ERP software often includes accounting, inventory, sales, and more. Every section of your business will be able to access their designated software elements. Then they all come together seamlessly to give you an up-to-date view at all times.
Not only will you be able to have an integrated view, but often, data can be shared across departments. Different sections of your business often have to work together. Enterprise software serves as a hub for departments to get tasks done efficiently.
Let's say you run a candle business. You have various suppliers for the manufacturing of your containers, wicks, oils, labels, and etc. You also have other departments that look after shipping, advertising, bookkeeping, customer service, and many other daily tasks that keep the company running.
Your ERP software will facilitate all these aspects individually and give you one centralized place to track everything. Whether your wick supplier is running behind schedule or your marketing team needs help, you'll know right away. You can track sales and check your budget so you know exactly where to cut costs and where to improve.
There are three signs that you need to deploy an ERP system and benefit from it now. First of all, perhaps you've been doing fine with basics, but the basics have become the limits on your growth. Secondly,  you may notice that your new accounting or other specific software isn't compatible with your existing systems, i.e. an HR system or an internal CRM system. You realize it's a waste of time and resources trying to stitch a solution together. And the final one is if your staff and customers start complaining about errors now and then and you feel like you can't afford to invest in meeting their expectations, you must then streamline the operations without any delay. Stay competitive while scaling!
Types of ERP
ERP is certainly not a "one size fits all" type of software. Different ERP software implements in various ways. The right ERP software for you depends mostly on the size and scope of your business. Some of the most popular options include:
Open Source: An open-source ERP software allows you to inspect, change, and improve your ERP source code depending on your needs, leading to a more personalized solution.
On-premise: An on-premise ERP software is deployed right into your on-site devices and is appropriate for companies of medium to large businesses.
Cloud-based: A Cloud-based ERP is simply made available through a Cloud-hosting service rather than being deployed into your on-site devices.  Many small and medium businesses choose this option thanks to its cost-effectiveness and the appeal of getting real-time data from anywhere with an Internet connection.
Hybrid: A hybrid ERP combines the services and benefits of on-premise and Cloud-based ERP solutions.
ERP in Different Industries
In addition to the various implementations, you'll also find ERP solutions that are designed to work within certain industries. Let's take higher education as an example. An ERP software designed for higher educational institutions may include features like admissions and records, tuition billing, grading, scheduling, and a whole range of other tasks that are more specific to the academic needs.
In comparison, a construction company will need completely different ERP items. A construction ERP might help with construction task management, tracking labour, ordering materials, and handling subcontractors.
Some businesses opt for an industry-specific ERP. This is to ensure they don't have to deal with tons of features they won't actually use. Instead, they use the space for more customized capabilities.
Benefits of ERP
The benefits of ERP software for your business is truly unlimited. First, ERP ensures you can have a customized solution. Some ERP software even lets you alter modules as you go to consistently adapt to your changing business.
ERP can also provide tremendously data security. As our world becomes more digital, there's an increased risk of sensitive business data becoming compromised. Your ERP software certainly has a leg-up on security with real-time risk management tools which automatically audit your data and monitor for fraud.
As your business expands, it can be difficult to ensure that everyone is always on the same page. ERP software keeps all information up-to-date at all times, so there's no more tangled wires or slipped messages. This aspect of ERP can be super helpful when your business operates in multiple locations.
In order to move your business forward and encourage growth, you need data accuracy for every aspect of your company. The power of ERP collects all the precise figures and combines them into overarching reports to help you analyze trends and decide for future action. You can use these reports for your own internal decision-making or present them to shareholders and team members to keep everyone updated on your business's progress.
Finally, and perhaps most importantly, ERP software allows you to save time and effort connecting the various parts of your business. Your entire workplace will benefit from increased visibility and transparency, encouraging all parties to stay on top of their tasks. You won't have to spend countless hours acting as the middleman; instead, they can communicate directly to finish projects.
ERP from DEAR Systems
As you can see, ERP software can go a long way in increasing the productivity and efficiency of your business. Many companies turn to ERP software to ensure that any roadblocks are handled as effectively and quickly as possible. At DEAR Systems, we realize how big of a difference ERP software can make for your business, which is why we've developed our own cutting-edge technology to help you get the job done.
Our Cloud ERP software takes every aspect of your business and keeps you constantly updated with the most accurate, relevant information anytime anywhere. DEAR ERP software includes features to help you with purchasing, sales, inventory, POS, accounting, manufacturing, reports and many more.
We've helped countless clients in a number of industries thanks to our customizable ERP solutions. Our clients run businesses in retailing, eCommerce, manufacturing, wholesale, distribution, food and beverage, health and supplements, and so on. We are proud to have created the #1 rated Cloud ERP software in the United States and to serve clients from over 78 countries. Your business has truly no limit when every aspect is integrated into a top-notch ERP software.
DEAR landed in China in early 2020 and have supported many small business owners to achieve successful digitization. For China users, DEAR Systems has not only localized the language, the server and also accounting functions for being in compliance with China Regulations and Formats. Contact us today to learn more and to start your free trial!
INNO is the first official partner of DEAR Systems in China. We care about data accuracy and efficiency since they are the key for businesses navigating the change of the market. Having developed a unique approach to software implementation, training and ongoing monitoring, we take clients through the beginning stage smoothly, so they can quickly pick the new software up. We believe it is essential to build up trust and empower staff and management to make well-informed decisions about the business with the help of powerful software.
INNO founder Jano Tse has 12 years of experience in implementing ERP systems for foreign and local SMEs. He also specializes in the accounting process under China's business environment. Jano's passion for disciplined delivery and methods for meeting goals on time and under budget is exactly what INNO brings to each of the clients.
Right Software | Right Service | Right People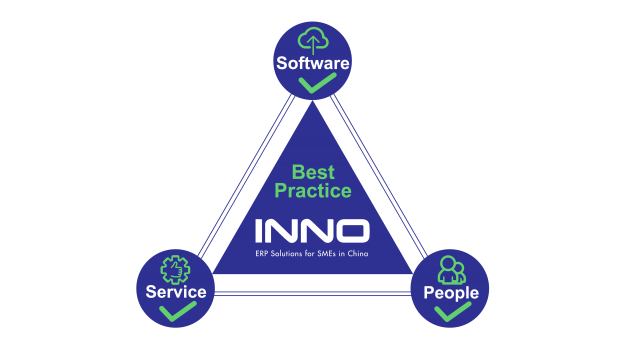 3 essential elements driving the success of ERP projects:
Main services:
This article was originally posted at Dear Systems.