In our fast-paced world, customers expect quality products delivered to their front door at record speeds. Online retailers face fierce competition – especially now during COVID-19, where online shopping has hit a record high and more retailers are moving online. If product quality and delivery do not meet customer demands, they can easily look elsewhere. Therefore, it is crucial that every aspect of the customer's experience meets expectations. While you, the retailer, may feel confident about the quality of your product, plenty can go wrong during delivery. One bad shipping experience can cost you business, and consistent problems can damage your reputation. Luckily, order control software can help.
To prevent shipping accidents, consider investing in an effective order management system. What is an order management system? It simplifies all tasks that are required for shipping your merchandise. This could mean anything from ensuring the product is in stock to tracking orders already sent. The larger your business, the more difficult it becomes to keep track of all the nitty-gritty details. An order management system automatically does the tedious work that can so easily go wrong due to human error. There are many benefits an order management system provides, but here are a few:
Less Grunt Work
Managing your business from a physical location versus selling online both have their pros and cons. Particularly, selling online avoids the overhead costs that come with running a store. However, since customers are not picking out their purchases and bringing them to you at a cash register, this can cause a true logistical nightmare. You and your staff may spend the bulk of your time sitting in front of a computer screen trying to stay on top of new orders, update old order statuses, and manage customer service. As your business grows, it won't take long for things to get out of control! Focusing on the day-to-day operations will also impede your ability to focus on the big picture and future growth.
However, order management systems provide an alternative. They automate order routing tasks and tracking information updates. You set the rules for how the order should be fulfilled, and the order management system will do the rest. Tracking information and order status are automatically updated on the sales platform.
Opportunities for Multichannel Expansion
Just as store location makes a big difference in attracting customers, online shopping is also highly dependent on location. To sell, you must reach customers where they shop. Multichannel selling allows you to sell products in more than just one place (without the costs of rent!) and reach a broad customer base. However, one of the biggest barriers to this type of expansion is again logistics. Managing sales on one website is a challenge; doing it from two or three might be impossible without seriously overextending your business. Too many logistical mistakes could permanently damage your reputation.
This is where order control software saves the day. It will streamline the process for you to avoid multichannel fulfilment mistakes. All your sales will be imported to one central location where you can view everything you need. Once information is centralized, you then have the power to have orders routed to specific fulfilment centres or you can print labels directly from the platform. Customers are then notified of the progress of their shipment.
Automatic Fulfillment
Manually, the fulfilment process is quite tedious and time-consuming, especially using multiple fulfilment options. When an order is received, it sits in your seller portal. You must log on, get the details, and fulfil it yourself to send it to the appropriate option. Don't waste any more time on fulfilling orders!
An order management system does this automatically for you. As soon as an order is received, the system routes it to the right place. It could be the middle of the night, and you can sleep easy, knowing your orders are being fulfilled. These precious hours – and even minutes – you save with an order management system could make the difference in maintaining high shipping expectations and gaining a loyal customer
Avoiding Human Error
No matter how organized you are, no matter how efficient, humans make mistakes. A lousy night's sleep or missing your morning coffee could result in shipping mishaps that lose important business. Eliminate this risk with order management software. Such software can print pick lists that show you exactly where to find products to ship, which makes it harder for you or your employees to ship the wrong item. This is especially crucial during a huge influx of orders, like the holiday season. Once items are packed, packing verification scans act as a second verification to ensure the right items are going to the right customers.
Lower Prices
Complex fulfilment operations can save you a lot of money, which in turn saves on shipping costs for your customers. Even if the product is of great quality, but the customer finds the shipping costs are through the roof, they will likely opt for something cheaper.
By distributing your inventory across multiple fulfilment centres, you can be strategic in choosing to prioritize which orders go to which fulfilment option, using zip code or other strategic means. When products are closer to their final destination, it saves on postage and reaches its final destination faster.
Unfortunately, manual labour can't do the trick– unless you have unlimited time and manpower! With order control software, you are in the best position to automatically assign shipments to the closest distribution centre, thus saving money and time for all parties involved.
Centralized Customer Service
Gone are days of waiting expectantly for a package. Today, customers are eager to know the progress of their purchase from start to finish. Imagine the intensive labour required to keep track of all stages of all orders!
Fortunately, the order control software can centralize all customer and order information in one location. Therefore, customer representatives are more informed and in dealing with customer concerns. They can respond more effectively to shipping, delivery, and cancellation inquiries. Without information compiled in one centralized system, there are plenty of opportunities for error.
Additionally, it will update customers on the progress of their shipment from start to finish with regular emails, tracking information, and delivery status alert. This will give customers the ability to make changes to the order without having to jump through multiple hoops or stay on hold with call centres for hours. Fortunately, your customers will feel confident that their purchase will come soon to their doorstep. With increased confidence in the efficiency of order control software, call centre volumes are even dropping because customers are comfortable checking their order status online. Such transparency is key to enhancing the customer experience.
Place Orders from Anywhere
With standard online processing, your product shipping area and the costs customers are willing to pay to determine your location. However, order control software gives you the opportunity to process orders from anywhere on the globe, all the while making shipping costs more affordable for everyone.
Improves Vendor Relationship
With order control software, you can set up automated ordering for popular products or items you know you'll need to stock up on soon. Turn to the reporting functions of your software to determine when you need more or less from your vendor. Establishing such steady contact is good for both parties and ensures you won't be running out of merchandise anytime soon.
If you believe an order control software is a right step for your business, the next step is to ask what type of order control software is right for your business. What exactly do you want your order management system to do? What are the biggest problems your business has faced so far?
Manage Your Inventory with Ease Thanks to DEAR Systems
Once you have identified your needs, consider looking to DEAR Systems inventory management software. Our software contains a Warehouse Management System that allows for real-time monitoring of logistics operations. Whether you are scanning barcodes, printing shipping labels, or improving fill rates, our system allows immediate monitoring. Other functions include Drop Shipment, Write Off functionality for lost or damaged inventory, synchronization of physical sales and inventory, stock adjustment, inventory transfer, product volume management, and custom pricing.
DEAR Systems provides a variety of software to meet the needs of small-to-large businesses. Our top order management systems include QuickBooks Commerce, Oracle Order Management Cloud, Magento Commerce Order Management, and IBM Sterling Management Order. Your purchase of one of these software programs will provide you with an effective, integrative system. You will be able to calculate manufacturing costs, pick products for shipping, integrate with POS systems, and much more at a fraction of the time it takes to do these tasks manually.
By investing in order control software, you are investing in your business. Higher customer satisfaction, increased productivity, and sustained sales will all result in higher cash flow, and of course, peace of mind that the day-to-day management of your online business does not rest wholly on your shoulders.
INNO is the first official partner of DEAR Systems in China. We care about data accuracy and efficiency since they are the key for businesses navigating the change of the market. Having developed a unique approach to software implementation, training and ongoing monitoring, we take clients through the beginning stage smoothly, so they can quickly pick the new software up. We believe it is essential to build up trust and empower staff and management to make well-informed decisions about the business with the help of powerful software.
INNO founder Jano Tse has 12 years of experience in implementing ERP systems for foreign and local SMEs. He also specializes in the accounting process under China's business environment. Jano's passion for disciplined delivery and methods for meeting goals on time and under budget is exactly what INNO brings to each of the clients.
Right Software | Right Service | Right People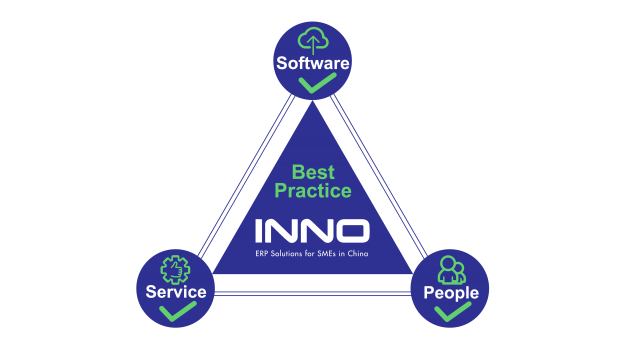 3 essential elements driving the success of ERP projects: