Considering adopting software for your manufacturing business? Great decision! Your manufacturing software will make a world of difference in the day-to-day operations of your company. But before you can get into deciding what manufacturing ERP might be right for you, it's important to know what to expect. While every manufacturing software is a little bit different, there are a few key features that you'll see in just about any software.
Here, we'll explain what manufacturing software actually does and how it can benefit your company. Then we'll take a look at some of the main features of manufacturing software, so you know what to look for when deciding on a platform for your company. Finally, you'll learn about the #1 rated Cloud ERP software in the USA and how it can completely transform how your manufacturing business operates.
What is Manufacturing Software?
Manufacturing software is sometimes referred to as Manufacturing ERP, or Enterprise Resource Planning. Essentially, this software connects every department of your business and puts their schedules, reports, and every other important piece of information into one convenient location. ERP can be used for a number of different industries, but within manufacturing, it can be used to keep track of the needs that are more specific to your industry, as opposed to a more general ERP system that aims to be "one size fits all."
You can opt for manufacturing ERP that's on-premise, Cloud-based, or hybrid. Many smaller companies choose an on-premise version, while bigger companies or those that have multiple locations like to opt for Cloud-based software. Whatever you choose, your manufacturing software will ensure you always have the most up to date information about every aspect of your business.
Benefits of Manufacturing Software
Manufacturing software can save a lot of headache when it comes to interdepartmental tasks. If something's going wrong on your supply chain, it can impact other sections of your business, and the longer it takes for you to find out, the worse it can become. But with a manufacturing ERP, all of your information is updated at once, so every department will know right away if any issues arise.
You'll also spend much less time reporting or trying to get information from each individual department. In the past, each department kept their own individual spreadsheets that were only accessible to others when they actually requested it. But with ERP software, those spreadsheets are unnecessary, and everyone's figures are available on demand. This can save you tons of time and present you with convenient, ready-made reports when it's time to analyse your company or speak with your partners.
Top Features of Manufacturing Software
Manufacturing software can vary depending on which company you choose to work with, and you may even be able to create different features if your software is more customizable. But in general, you can expect your manufacturing software to include the following important capabilities:
  Business reporting
  Mobile application
  Superior integration
  Shop floor control
  Management MRP
  Expansive inventory
 Business Reporting
Business reporting, or BI, provides a complete overview of what's happening in your business. This feature is essentially where all of the figures of your company come together to form up to date reports that you can share with the other management figures. This capability is also advantageous when it comes to planning for the future; you can look back at reports from the past to determine what trends to expect for an upcoming season, or you can plan a more accurate budget based on the spending within each department.
Your manufacturing software will likely contain a wide range of methods you can use to manipulate and analyse big sets of data, including, data drilling, grouping and sorting, charting, and filing. You should also have the ability to export your numbers to Excel or CSV for easy sharing.
Mobile Application
Particularly if you opt for a Cloud-based manufacturing ERP, your software should come with a mobile application. As long as you have an internet connection, you'll be able to access all the features of your ERP that you use while you're actually at work. This can be an especially handy tool when your business has multiple locations. You certainly can't be everywhere at once, but with a mobile app, you can keep track of your various locations from anywhere and input information on the go.
Your mobile application is also a great way to ensure you're always able to get the most relevant and accurate data. No matter where you are, you can pull up your figures and reports to see what's happening in your business. If you see something that looks off, you can immediately get in contact with the right people to try to resolve the issue.
Superior Integration
While manufacturing ERP is an incredible tool with tons of capabilities, it's not the only tool you'll be using in your business. That's why your software should be able to integrate seamlessly with the other programs you're using within your company. Good integration allows your business to stay flexible and ensure that all programs work together efficiently.
You'll definitely want a manufacturing software that integrates with your accounting software, and many ERPs will connect with big names like Quickbooks and Xero. You can also look for integration with eCommerce platforms, Cloud drives like Dropbox or Google Drive, and payment options like Square and Stripe.
Shop Floor Control
Your shop floor is where all the major work is done in terms of actually getting your product built, so it's vital that you know what's going on at all times. Your manufacturing software should give you superior shop floor management so you can always see who and what is on your shop floor. You can even receive feedback to let you know how fast products are being made or if you're running out of a certain element and need to reorder.
Your shop floor control feature should be able to show you what's going on at any time you request. There should also be capabilities for scrap capture, machine capture, worker capture, and material capture. In general, you should be able to track anything or anyone that's on your shop floor at a given time.
Management MRP
Management MRP, or Manufacturing Resource Planning, helps you plan out exactly what parts and pieces of equipment are needed to make your products. You can use this feature to determine what parts might need to be reordered, track the status of your orders, schedule deliveries, and more.
Some of the capabilities of your management MRP might include dropship materials, backorder and reorder, material availability, bill of materials, and more. Essentially, you'll be able to track every element you need to make your product and ensure that you're never running out of parts unexpectedly. Having all of this vital information in one place can save you tons of stress and hassle and will ensure your company continues to run like a well-oiled machine.
Expansive Inventory
Perhaps the most important feature of your manufacturing software is the ability to handle your expansive inventory. Every manufacturing business has a ton of moving parts, but if you're not able to track them all, you'll never be able to scale your company the way you want to. Inventory management is one of the most important elements of your business in general, and by adopting a manufacturing ERP that has this capability built-in, you reduce the risk of error and save tons of time when compared to tracking your inventory manually.
Your manufacturing ERP should be able to track an abundance of serial numbers, SKU's, and part numbers, as well as track their barcodes and print labels. You should have position tracking by warehouse and by shelf, so no part or product ever goes unaccounted for. The best manufacturing ERP allows you to see current stock levels at a glance, as well as expiration dates so you always know when something needs to be reordered or replaced.
Handle It All With DEAR Systems
Finding the ideal ERP for the manufacturing industry might seem like a challenge, but it's definitely something worth exploring. By having all of your information in one convenient place, you can access your data on the go and save countless hours tracking everything individually. Investing in a manufacturing-specific ERP software can ensure that you get exactly the capabilities you need and nothing you don't.
DEAR Systems is proud to offer some of the most advanced Cloud-based ERP software on the market, and we've served countless satisfied clients in the manufacturing industry with our affordable and intuitive software. You'll be able to get set up in a snap and will always have a 360-degree view of your business. If you ever have a question or concern, our customer service team is always here for you. Our ERP integrates with many top name brands like Amazon, Xero, Square, Stripe, Quickbooks, and more, making for seamless integration into your operation. Contact INNO (the leading official partner of DEAR in China) today to learn more about DEAR features and to start your 14-day free trial!
About Us
INNO cares about data accuracy since it is a core value for small businesses navigating the change of the market. Having developed a unique approach to on-going monitoring, we take clients through the beginning stage smoothly and they quickly learn how to operate the new software. At INNO, we believe it is essential to build up trust and empower staff and management to make well-informed decisions about the business with the help of powerful software.
Right Software | Right Service | Right People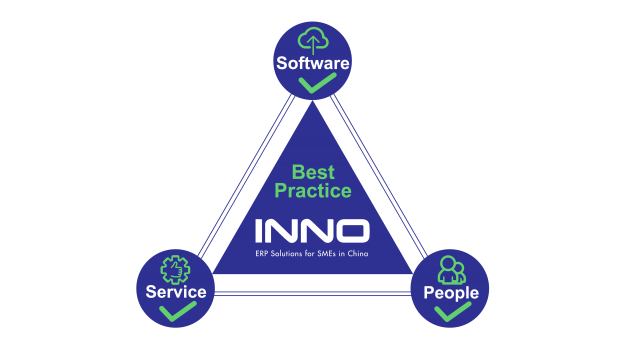 INNO founder Jano Tse has 12 years of experience in implementing ERP systems for foreign and local SMEs. He also specializes in the accounting process under China's business environment. Jano's passion for disciplined delivery and methods for meeting goals on time and under budget is exactly what INNO brings to each of the clients.
Main services:
Contact INNO today for a free consultation about your business situation!
Client Stories…
This article was originally posted at Dear Systems.