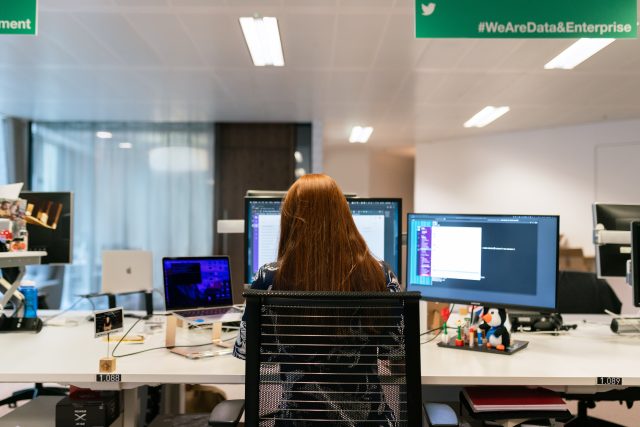 Have you thought about implementing an Enterprise Resource Planning (ERP) system for your China office? Finding the right ERP systems in China and getting your staff to use it is a common challenge for many businesses, especially the small or medium-sized ones (SMEs). The right choice of software and its implementation becomes crucial when working in a country with different business culture and habits.
How to choose ERP software in China?
Many business owners will find that the ERP software in China, even one that runs successfully in their home country, does not bring the same benefits. The software may be too complex and over-priced for what the China office needs at the stage of early growth. It could even adversely affect working efficiency and increase operational costs.
To help those businesses start on the right foot, we will share some tips for finding the right ERP software in China and avoiding the most common pitfalls. All for the better journey of implementing an ERP system in China operations!
Pitfall 1: Aim to cover every feature at once
Many foreign companies inherit the same business models for growth and management in China as they have in their home countries. That causes immense problems internally. In China, striving for perfection and trying to cover every possible requirement on early management can cripple a company. The key to winning in this fast-changing market is embracing pragmatism. Western markets have long-time established rules and relatively predictable supply chain behaviours. However, to maintain competitiveness in today's Chinese marketplace, businesses must be serving clients with incredible speed, flexibility, in-depth local knowledge, and extensive connections. One ERP system that just suits your business growing size and model can help greatly.
To remain flexible, companies at early operation should look for a solution that will not require a complete overhaul when a minimal change is required. Conventional ERP software like SAP, Oracle, Yongyou, Infor, Sage, Dynamic, Kingdee, or Netsuite that aims to solve every business problem may not prove to be the panacea but rather a burden for SMEs. It can stall the business development and prevent you from growing as fast as you could with a simple-to-operate and comprehensible system.
Solution: find out if a business application (SaaS) could already fulfill your business needs
Software as a Service (SaaS) offers an excellent solution right out-of-the-box for many SMEs. They come at a fraction of the price of the incumbent ERP system in China but are less customizable. For SMEs, they are more affordable, accessible, and user-friendly. While the company grows, it can pick and assemble applications to fit the business needs just like Lego bricks. This will help you keep the monetary investment low while you discover which sides e.g. supply chain, business procedures, need to be tackled first.
Recommended SaaS:

 
DEAR Inventory is cloud-based inventory management software with user-friendly design and powerful features for small-sized businesses. Live subscriptions cover over 78 countries. It has been awarded App-of-the-Month by Xero and granted with 'Xero staff picks' trophy. Dear inventory in China is hosted on the Microsoft Azure server which ensures high-speed, as well as features bilingual service. DEAR Inventory in China is used by small businesses from manufacturing, wholesaling, retailing, and e-commerce.
Kingdee K/3 cloud is a Cloud-based ERP package, widely used in China for medium-sized or group level enterprises. It is the leading vendor in the China ERP industry for trading, service, and manufacturing companies. Kingdee K/3 is a Chinese design that supports the bilingual interface. It accommodates different GAAP's (GAAP: Generally Accepted Accounting Principle) for foreign customers. The system consists of modular subsystems that can be purchased and implemented separately and then integrated.
Pitfall 2. Expect the ERP software to do all the work for you
ERP software is a tool that can accelerate your business growth and make everyday operations more efficient. However, assuming that it will deliver efficiency and serve your business values all by itself can lead to disappointment.
It is not about choosing the most extensive system. Your business processes are the foundation, the core values that secure the success of the system implementation. At the end of the day, it is not just about the system. It is about how that system can benefit your business.
Also don't expect every ERP consultant working for a well-known brand to naturally grasp the core of your businesses and build up your foundation for you. The Chinese business environment can be unfamiliar and seem complicated to many. So choosing the right local software implementer that is well-versed in the field the company operates in, is crucial. The implementer should have a proven track record in implementing the ERP systems for the field your company operates in. Naturally, implementers with years in China's ERP industry is a stronger guarantee for success.
Just like having a tour guide who can reveal local history versus wandering the unfamiliar territories yourself, a knowledgable implementer can deliver a smooth process with better results. Without a proper guide, you might just be wasting your money.
Pitfall 3. Your local team lacks understanding and motivation to use the ERP system
Regardless of how good your ERP software, it comes down to the people who use it. If your team lacks proper skills and motivation when using ERP software – it may all be for nothing. It is easy to set up a meeting and initial training but employees also need to see the benefit of putting the extra work.
SMEs need to make all the difficult decisions themselves and can rarely afford mistakes. If the team uses ERP software properly, all the data and statistics business owners need are right at your fingertips. However, if the employees fail to track the required processes on the ERP system – the result can be inaccurate and not trustworthy.
At first, changing the daily operations can be an annoyance and bring additional stress to the employees due to the extra tasks they have to complete. It is important to complete the proper training where the team understands these extra tasks and their contribution leads directly to the company's success.
It is crucial to have a designated person monitoring the proper usage of the ERP internally. Your ERP implementation company will also provide ongoing monitoring and will solve any issues and answer questions that may come up.
Advice For Small Businesses and Medium-sized Businesses
Remember, after all, you are not looking for a perfect system to magically change your business, but instead a pragmatic solution. The best ERP system is not necessarily the one with all the features, but the one that is right from the basement and your team finds useful and easy to use.
If you find the system does not function as expected, take a holistic approach, and examine all the internal and external factors before deciding on what to change.
About Us
INNO cares about data accuracy since it is a core value for small businesses navigating the change of the market. Having developed a unique approach to on-going monitoring, we take clients through the beginning stage smoothly and they quickly learn how to operate the new software. At INNO, we believe it is essential to build up trust and empower staff and management to make well-informed decisions about the business with the help of powerful software.
Right Software | Right Service | Right People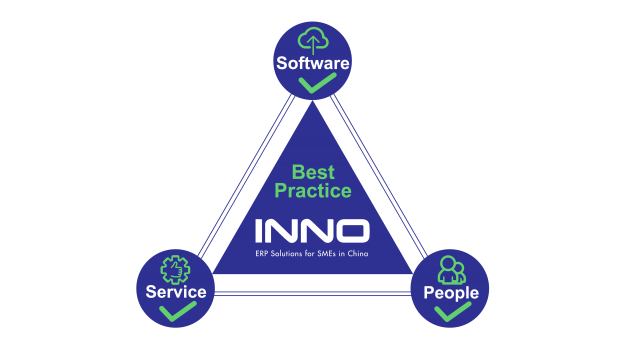 INNO founder Jano Tse has 12 years of experience in implementing ERP systems for foreign and local SMEs. He also specializes in the accounting process under China's business environment. Jano's passion for disciplined delivery and methods for meeting goals on time and under budget is exactly what INNO brings to each of the clients.
Main services:
Talk to one of the INNO experts about China's ERP solutions – Click here to book your time slot today.
More Client Stories…