The COVID-19 pandemic presented challenges to most businesses, especially small businesses. It was tough to manage inventory distributions in brick-and-mortar locations amid lockdowns and increased demand for online purchases. Then came the supply chain shortages and other issues. But some small businesses succeeded despite those challenges. How did they do it? What lessons can other small businesses take from their successes?
Download the eBook
1. Operate efficiently in a changing economy
Manufacturers, retailers, and wholesalers like you are experiencing a seismic shift in what they focus on to grow their businesses. Improving operational efficiency is most important, while adding new sales channels is getting less attention. Manage sales across multiple channels and share accurate data with a precise view of actual inventory costs and landed costs in real time.
2. Better identify pain points with an integrated cloud-based system
Shifting your business focus means identifying your most-important operational challenges so you can find solutions that will make you more efficient. The right cloud-based system integrates all your company data in one place to help you find what you need quickly. Data accuracy, systems integration (especially with 3PL systems), inventory control and forecasting are the most-felt challenges across the board.
3. Get your "must haves" in one cloud-based solution
Moving away from desktop systems and into the cloud saves you time and money, while enabling you to better manage the products you manufacture and sell. A high-impact cloud solution for inventory, accounting and complete business management can satisfy all your must-haves.
Check out Cin7 Core's powerful feature list.
4. Moving to a cloud-based solution can be faster and less expensive
66% of product sellers say the biggest block to cloud migration is not being able to implement a solution on their own. Easily overcome that issue with Cin7 Core + QuickBooks Online, which takes up to a month less to implement than other solutions and cost $6,000 to $11,000 less.
You want to grow, become more efficient, deliver exceptional products, and easily adapt to rapid changes in the economy, including spikes in demand. Cin7 Core + QuickBooks Online offers one powerful solution for your inventory and financial management needs, from sales to purchasing, production, warehousing, shipping and returns, at a fraction of the cost of an ERP. Save time and money while better managing your products and accounting with a scalable, cloud-native solution that is actually affordable.
Download the eBook
Book a Demo today with one of our experts and take charge of your inventory management.
This article was originally posted at Cin7.
About INNO
We are a supplier specializing in the efficient delivery of ERP systems for small or medium-sized enterprises. In addition to the local Kingdee software, we have introduced a very easy-to-use cloud ERP system from America – Cin7 Core. The most substantial features of this system are:
Easy to use
Low cost of learning
Short on-line cycle
Full-featured
Chinese and English bilingual function
Cloud deployment
This has brought prerequisites for the firm's finances to use this system proficiently as well. We are the leading implementation partner of Cin7 Core, based in Shanghai, China. For details, refer to INNO China – Cin7 Expert Directory.
"70% of Cin7 Core implementations have the business run in less than three weeks compared to an average of 7 months for ERP implementations."
Jano Tse – the founder of INNO
Jano Tse has 14 years of experience in implementing ERP systems for foreign and local companies. He also specializes in the accounting processes in China's business environment. Jano's passion for disciplined delivery and methods for meeting goals on time and under budget is exactly what INNO brings to each of the clients. 
Right Software | Right Service | Right People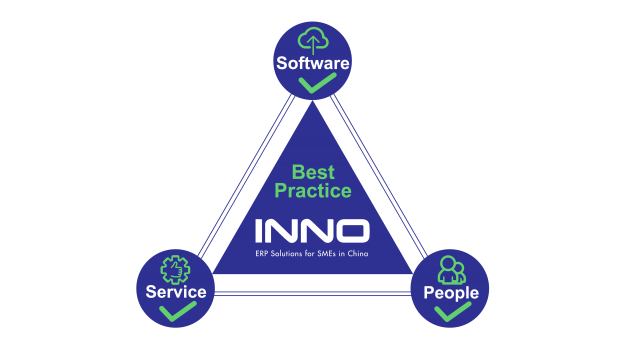 3 essential elements driving the success of ERP projects: